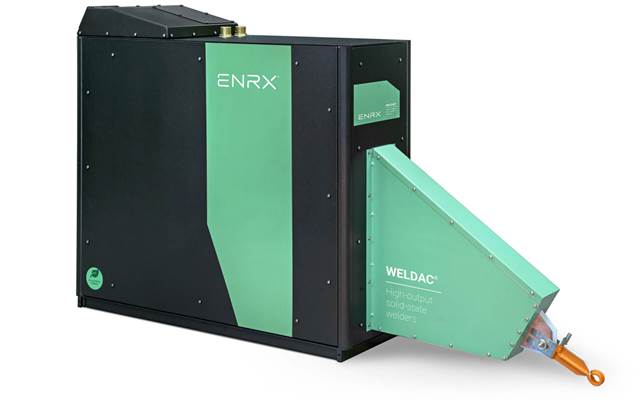 Weldac: Tube welders
Weldac is our family of proven high-output solid-state welders for welding low-carbon steel, stainless steel, high-strength steel and aluminium. 
Introduction
Weldac is our system family of high-output, solid-state tube and pipe welders. The Weldac family covers a wide range of power sizes from 50 kW up to 2,200 kW and a frequency range of 60-500 kHz with either Silicon Carbide or Insulated Gate Bipolar Transistor.
Small footprint and fast installation

Continuous electronic load matching
Efficiency factor of 85-95%
Learn about how and where the Weldac family can be used
Compact Weldac - a small revolution: 1300 mm (h) x 1500 mm (l) x 500 mm (w).

Automatic frequency adjusting to each tube dimension. Coil changes take only seconds.

Easy-to-use control panel with intuitive guiding for operators.

Automated induction longitudinal welding is a reliable, high-throughput process.

Weldac can be fittet with various induction coil or quick-lifting contact heads.

Weldac's automatic load matching ensures full output power across a wide range of tube sizes. There are no "unsafe" operating areas. When a different-sized coil is fitted, Weldac automatically matches to the best setting.

The low power consumption and high efficiency of ENRX welding systems reduces costs.

Ferrite for high-frequency tube welding.

ENRX offer a full range of consumables, including coils, ferrite, impeders, and tube scarfing equipment.

The high-speed troughput and reliability of induction welding makes it perfect for the tube and pipe industry

Weldac's efficiency from input at the rectifier to output at the coil is 85-95%.