Next step in sustainability and circularity for Sandvik Rock Tools
Recycling of mining drill bits
Sandvik, the renowned supplier of high-tech engineering equipment and rock tools to the mining industry, has developed a unique circular solution for the recycling of tungsten inserts in drill bits. With a bit of help from ENRX, this new and sustainable solution is set to reshape mining and drilling operations in the years ahead.
Imagine all the millions of places around the world where people are drilling big and small holes into rock. Picture the powerful carbide-enhanced drill bits work their way through the hard stone. Even these powerful drills with tungsten carbide inserts will at some point wear out. And what do you think happens to those drill bits once they're no longer any good?
"Well, you can't melt the steel along with the tungsten, so they're very difficult to salvage", says Recycling Manager Petter Nilsen at Sandvik Rock Tools. "Consequently, millions of them become waste – rather expensive waste at that."
Not anymore, though. Along with several other clever minds at Sandvik, Petter has come up with a whole new solution that turns this waste into new products, saving on energy, materials, labour, and transport.
"Not to mention money!", he points out. "Sandvik buys back the used drill bits for separation and recycling, which translates to savings for our customers."
Remarkably robust, tungsten carbide has twice the density of steel and is used extensively in all sorts of drill bits, that sits on everything from the smallest hand-held hammers to large tunnel boring machines. They usually come in the form of button inserts – up to thirty on a single drill bit – mounted in a surrounding matrix of steel.
The mining of tungsten is a very difficult and labour-intensive process. Typically found in minerals that contain less than 0.5 percent of it, the production of a single tungsten carbide insert requires a huge volume of material. This obviously requires a lot of energy-consuming processing and transportation that add up to a considerable cost. Having an easy way to recycle the worn-down tungsten which remains in the drill bits deliver substantial savings.
"I came up with the idea back in 2018, after meeting a representative for ENRX", Petter recalls. "The next week I visited the US where I saw how they've had to do the extraction of tungsten for the past 15 years since we started recycling. They had to heat the entire worn-out drill bit to a red hot 1100 degrees and then use a pick and a hammer to break out the individual inserts one by one."
Now, the new extraction unit, which has been named EX360, will replace the manual labour.
"The environmental advantages are numerous. The need for virgin material is reduced and that in turn reduces production, energy consumption, transport and CO2 emissions."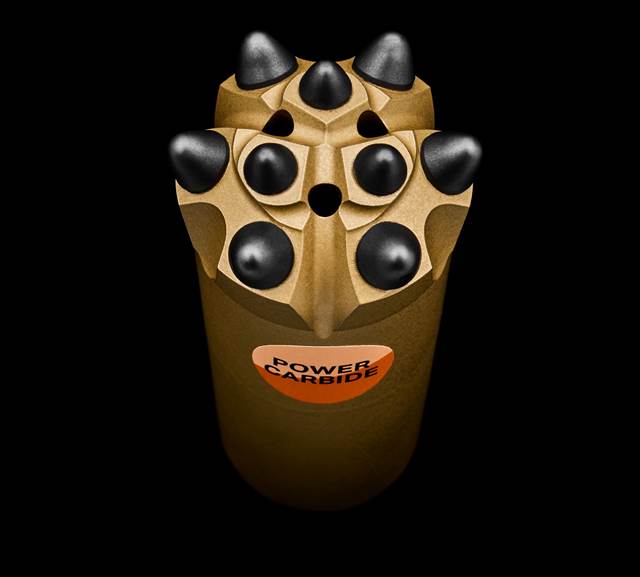 Petter Nilsen and machine builder Jan Berg from HBM AB recently visited the lab at ENRX in Skien, Norway, to discuss the interface between the ENRX equipment and the EX360. At the moment, they are eagerly awaiting the delivery of a number of Sinac 18/25 induction heating generators.


"Obviously, it is possible to buy induction solutions from several companies, but it was a deciding factor that ENRX has local production here in Scandinavia and that they can provide global service and support to installations around the world", the pair say. "Besides, their offer was the best, and they provided us with a lot of help in equipping and testing."
The new Sinacs will be delivered soon, but Jan and Petter are joking that they wouldn't mind taking a few with them in the back of the car as they drive back to Sweden. They are impatient to get the operation up and going.
So, how does this extraction unit of theirs actually work?
"In the production phase we use induction to shrink fit the inserts into the drill bit", Petter explains. "So I thought, why not turn the process on its head and use induction to remove them as well?"
The drill bits are literally turned upside down and vibrated while the steel is heated to 850 degrees. Within seconds the tungsten inserts effortlessly fall out. "
"Safety is a very important aspect of this", Jan adds. "You really can't compare it to the old manual process, which is both slow and labour-intensive. This is much safer!"
Once the tungsten is retrieved, the inserts are transported to Sandvik's recycling facility, Wolfram Bergbau und Hütten, where they are processed with a method developed by Wolfram.
"We're not scrap dealers", Jan grins. "The recycled material is as good as new, and it can be used for a full range of products."
"Indeed! Sandvik's Mining and Rock Solutions team has come up with ways to recycle the materials back into making new products for drilling", Petter adds. "The recycled tungsten can be used to make new carbide inserts, which provides a circular production cycle and creates a self-sustaining supply chain."
The environmental advantages are numerous. First of all, the need for virgin material is reduced and that in turn reduces production, energy consumption, transport and CO2 emissions. Additionally, the separation process can be done locally, reducing the business risk of outside dependencies in the supply chain as well as the need for supplier auditing.
"This is just the beginning", Petter says. "We are creating the future here, and we're probably going to need a lot more induction heaters in the years to come. We're going to need special coils as well, so we're probably looking at a long-term relationship with ENRX."
"We would absolutely love to keep on supporting Sandvik in this endeavour", says Sales Engineer Jari Koski, who is ENRX's representative in Sweden. "Green values and sustainability are driving them, and this dovetails perfectly with our own values and ambitions. The solution is brilliant, and we can imagine how it will take off in the mining industry."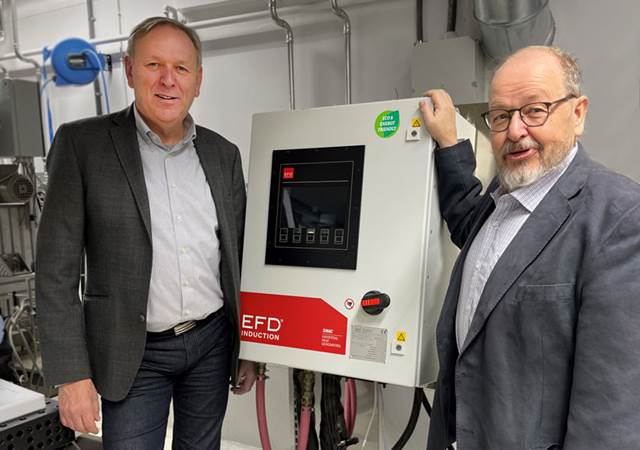 "Obviously, it is possible to buy induction solutions from several companies, but it was a deciding factor that ENRX has local production here in Scandinavia and that they can provide global service and support to installations around the world.
Besides, their offer was the best, and they provided us with a lot of help in equipping and testing."