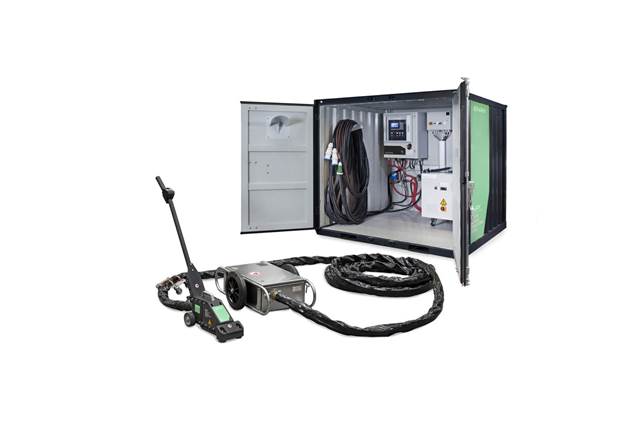 terac upgrade
More robust and user-friendly deck straightening tool
ENRX pioneered the use of induction heating for deck straightening, selling its first Terac system more than forty years ago. Since then, Terac has evolved to become the world's premier induction straightening solution. Now, it is further upgraded with a new professional look and improved handling properties. 
"It definitely looks better", says Project Manager Leif Helge Solli pointing to the new black housing that protects the frame and coil.
The housing isn't the only thing that has been redesigned, though. The exit for the water-cooled power cable has been moved from the top to the rear. It is now coming out horizontally and is resting on its own little trolleys, which not only increases mobility and stability, but protects against wear and tear as well.
"We have listened to what our customers had to say and looked at all issues that have been reported from the field", Leif Helge says. "For example, based on the feedback from operators, the handlebar has been modified and is now both stronger and more comfortable to use."
In addition, a new 3D printed handle switchbox also improves the ergonomic qualities.
"I'm sure operators will also appreciate that maintenance is much easier now", Leif Helge says. "Coil replacement used to be a time-consuming and tedious affair, but now the time it takes to change a coil has been reduced by two thirds. Even an inexperienced operator should be able to do it in fifteen minutes."
However, increased coil lifetime makes this particular chore a less frequent exercise. New coils with improved mechanical strength have proven successful and longer lasting.
And, it is not just the deck unit that has seen changes. The actual power source is upgraded to a Sinac v3 frequency converter. The Sinac induction heating generators are generally known to be the most advanced and reliable systems on the market.
"Once we had implemented all the upgrades, we sent a pilot version of the Terac off to one of the world's largest shipyards for three months", Leif Helge says. "There, it was really put to the test, and their feedback was very positive."
Shipyards are notoriously tough environments that requires robust equipment built to withstand dirt and dust. Perhaps the fact that it in no way contributes to the clamour and grime is part of the reason why Terac is a preferred tool for shipbuilders around the world. This eco-friendly equipment emits no fumes, no dust, no flames, no gas, and no noise. And, it is failsafe: Pre-set parameters makes it virtually impossible to overheat the metal.
"Obviously, this means safer and more comfortable working conditions", Leif Helge points out. "And equally important, the precise and repeatable heating improves both quality and productivity."
The most prominent feature of the Terac though, is its speed. Through-heating of an 8-millimetre steel deck takes only 8 seconds, cutting straightening times by up to 80 percent. That translates to considerable savings for the customer. But surely, all the improvements to the Terac will come with a cost?
"Actually no", Leif Helge says. "We have bent over backwards to keep costs down, so that we'll be able to keep the same price level as before."
Several ship builders have already taken advantage of this and purchased the upgraded Terac. Eight deck straightening systems have been sold recently and more orders are expected.
"For previous customers that already have a Terac in use today, we're going to offer an upgrade kit so that they too can have the benefit of this improved version", Leif Helge says.
WIDE WORK AREA
ENRX Terac systems are especially designed for deck straightening. Operators can work within a 45-metre radius of the base unit. An optional extension unit lengthens the work area to 60 metres.
Each Terac includes a frequency converter, a cooling system, an operator panel and a deck heating unit. Everything comes neatly packed in a container.
Induction straightening is not only better at preserving metallurgical properties. It's also the safest, healthiest, most environmentally friendly deck straightening method available.