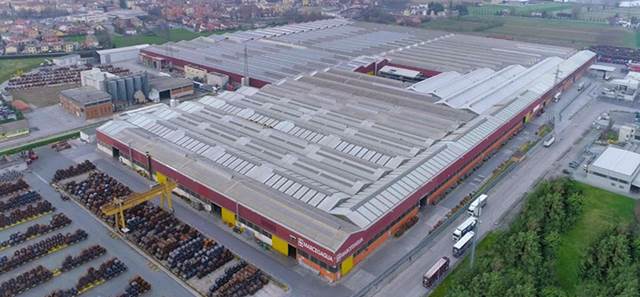 Huge weldac order
Marcegaglia expects large energy savings 
ENRX was recently awarded a huge order of 16 Weldac induction tube welders from Marcegaglia. The Italian steel processing leader now looks forward to increased uptime and substantial savings on energy consumption.
The success of the ENRX Weldac tube welders continues. Already by August this year, the number of new machines on order matched that of the entire welder sales of 2021.
"And that is saying something, considering last year also broke all previous sales records by a large margin. Actually, we almost tripled the sales from 2020", says Sales Manager for the tube and pipe market, Mauro Mazzoli.
Marcegaglia is the largest independent global operator in the steel processing industry. The sixteen ENRX welders on order, which include twelve of the hugely popular Compact Weldacs, are to be used at their plants in Italy and Poland and will replace other, less energy-efficient welders.
"In addition, Marcegaglia also ordered three Sinac stationary induction heating systems – one for pre-heating and two for tube annealing", says Mr. Mazzoli, who has been involved in welding equipment sales to almost all the Marcegaglia plants in Italy.
"I have known the Marcegaglia Group and many of the plant managers and maintenance managers for about 30 years", he says. "Since I joined ENRX ten years ago, I have been following the commissioning of welding systems closely, and I am sure that the versatility, reliability, and energy savings of ENRX's welding solutions, combined with comprehensive service and support, is why the Marcegaglia Group has chosen us to supply welding systems to their production lines."
"Considering this was a purchase from factories located in various European countries, we needed a supplier with an international scope", adds Roberto Ferrari, COO MCS and manager at the Tube Division of Marcegaglia's Casalmaggiore plant in Cremona, Italy. The plant, which is mainly dedicated to the processing of carbon steel to produce welded tubes and hollow sections, has a manufacturing capacity of over 700,000 tonnes per year.
The Marcegaglia Group is one of ENRX's most valued clients with a long history of good cooperation.
"I would say that our experiences with ENRX, of which the most significant date back to 2008, have confirmed our expectations over time", says Mr. Ferrari. "All in all, their products are of good quality, the company is reliable and has satisfactory after-sales service."
The ENRX Weldacs come in a wide range of power sizes, from 50 kW up to 2200 kW, with 1100 kW available in a one-cabinet solution. The small footprint, particularly of the small Compact Weldac, saves valuable floor space and simplifies in-line integration.
Short-circuit-proof, safe and reliable operation means more uptime which again translates to more output. However, the real hallmark of the Weldac is its unrivaled energy efficiency. The SiC transistors have been measured at above 95 % at full output current for standard setups.
These days energy-efficiency is not just crucial for environmental concerns, it is enormously important for cost cutting as well. With the anticipation of even higher energy prices looming, the tube and pipe industry faces a serious challenge. With their investment, Marcegaglia has strengthened their position to secure their objectives of high production energy-saving and environmental protection, which is one of the group's main objectives.
"Yes, I expect results and that the Weldacs will allow us to make substantial savings on energy consumption", Mr. Ferrari says.